At least three of the 39 people found dead in a lorry trailer in Essex may have been from Vietnam.
The BBC knows of three Vietnamese people whose relatives are worried they may have been in the trailer.
Pham Thi Tra My has not been heard from since she sent urgent messages on Tuesday saying she could not breathe.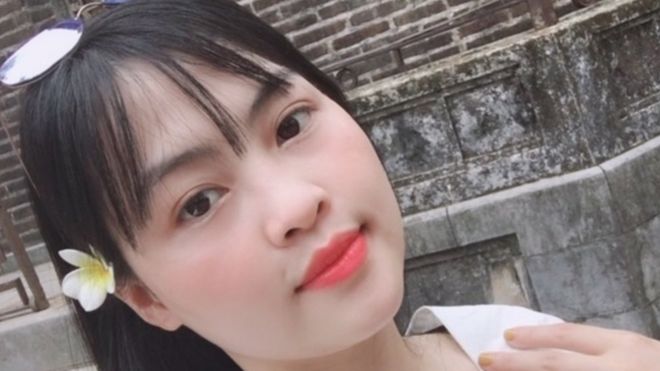 Pham Tri Tra My's brother said £30,000 had been paid to people smugglers (Copyright Family of Pham Tri Tra My)
Haunted by a shadowy spirit creature which they say lives inside their home, a Gasparillo family is seeking spiritual help to eradicate an unwanted house guest. 
Krishna Mathura, 60, of Hilltop Drive, Gasparillo said over the past seven months a three-feet tall spirit creature believed to be a buck, has been roaming his home.
The house is perched on an incline overlooking the Central Range. It is fenced and Mathura says the supernatural occurrences have been causing them sleepless nights. 
A Tobago family was thrown into mourning yesterday after an early morning accident claimed the life of a six-year-old boy.
Police said Daniel Black died on his way to hospital after his family's rental car collided with another car along the Valencia stretch, near Turure. The boy's parents, father Dean Black, 55, mother Hema, 45, and four-year-old brother Levi were fighting for their lives in the Intensive Care Unit at the Eric Williams Medical Sciences Complex and Sangre Grande Hospital respectively up to last night.
The Children's Authority has ordered that the Family First Foundation for Children – a home for orphaned children in Tobago cease operations immediately.
The Authority says the home's manager has been notified that she is not authorized to receive any child into her care at this time.
Failure to comply with the order will lead to the initiation of legal proceedings.
The home which is located at Calder Hall, Tobago, was being monitored by the authority for several months.
Three weeks ago a young father created a stir at City Gate as he sat on the roof of the transit hub, attracting the attention of the police and onlookers.
Video footage captured by post-work commuters showed police officers stealthily approaching the man from behind as a voice stood out above all others, saying "Alyuh hold him please. Please hold him."
The voice was that of the young man's mother begging for the police officers to save him from harming himself.
Pages